Marketing
Since 1992, Uptown Studios has been a creative force in creating marketing strategies in the Greater Sacramento area across a wide variety of businesses, organizations and industries. We use Human-Centered Design techniques along with Social Marketing research to discover who your target audience is and what drives them to click that button, buy that item or read that article. Through our in-depth focus group and design thinking processes, we discover target audience issues and pain points and then create successful marketing solutions.
Marketing is the process where your goods and services are shown in a way that is enticing to the customer. The four P's of marketing:
Product – Identification, selection and development of a product
Price – Determination of its cost
Place – Selection of a distribution channel to reach the customer
Promotion – Development and implementation of a strategy
We are here to help you create a marketing strategy that really works.
Social Media Marketing and Campaigns
Both powerful and cost effective, social media marketing is one of the top ways to reach your target audience. Using social media, we help to position your organization as a leader and resource for your community. Monthly social media analytics and reporting provides you with recommendations and fresh ideas to help grow your brand and reputation online. We develop content calendars that guide your business through the year to keep you focused on the most important events and topics. Our team will make a difference in your marketing success.
Does your team need help growing to the next level of social media and online reputation management? Our social media team is up-to-date on the latest social media trends, and can provide one-on-one or group trainings for your organization. Contact us for more information on how we can help today!
Get buzzing on social media now.
Email Marketing
Take advantage of your existing customer and client lists with email marketing. This type of marketing is one of the most effective ways to reach an audience already interested in your message. We create designs for the look and feel of your e-blast or newsletter and write compelling content that gets your message noticed. We also offer template design, so you can send out your messages anytime you want. We plan and create custom content that aligns with your digital marketing goals. Highlighting your key personnel, products, or services, our content designers are experienced in creating engaging stories that keeps your business top of mind and gets your customers talking.
Contact us now and let's talk about your marketing needs.
Branding
If you thought of your brand as a person, who would it be? Having a clearly defined brand image has become essential to long-term brand success. Uptown Studios can work with you and your team to give your branding and marketing an identity people will want to connect with.
Our brand development always begins with establishing the client's objectives to ensure that this brand strategy and process will produce the desired results and can be evaluated. Defining the client's objectives is about understanding your passion and vision for your organization. This is an opportunity for us to use Human-centered design during our discovery phase of your brand development.
Develop a brand that keeps its promises
Uptown Studios specializes in brand development. Take a look at our portfolio of branding work and give us a call to create or update your brand today at 916-446-1082.
Peach Tree Health
A Branding Case Study
Peach Tree Health has Northern California communities for 25 years. It started as a county clinic. Over the years, it became an independent 501(c)(3) corporation and a federally qualified health center (FQHC). Today, Peach Tree serves more than 25,000 patients in Yuba, Sutter, and Sacramento counties.
Uptown Studios was asked to re-envision the Peach Tree brand in 2013 (maybe show before after). At that time we also recommended and implemented the use of a new url PickPeach.org. We have assisted their brand expansion into specialty services such as Dental, Immediate Care and Vision Services.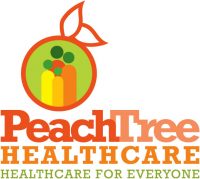 For their most recent clinic opening we have designed and implemented the interior and exterior way finding plan which included banners, monument sign and illuminated building signs. We also created created direct mail advertising to boost clinic walk-ins, and assisted in the coordination of the Grand Opening events.