If you thought of your brand as a person, who would it be? Having a clearly defined brand image has become essential to long-term brand success. Uptown Studios can work with you and your team to give your branding and marketing an identity people will want to connect with
Our brand development always begins with establishing the client's objectives to ensure that this brand strategy and process will produce the desired results and can be evaluated. Defining the client's objectives is about understanding your passion and vision for your organization. This is an opportunity for us to use Human-centered design during our discovery phase of your brand development.
Develop a brand that keeps its promises
Be Valuable
It's very important to be able to define ways in which your organization is unique AND valuable to your clients. Communicating these unique benefits in a way that's easy to remember and clearly understandable helps to increase your perceived value and can help to create loyal customers who will choose your product or service over your competition.
Stand Out
Differentiate from your competition. Examine your competitors carefully and look for the key selling points and the basic "promises" they make. Decide what differentiates your company, product or service. What "promise" does your brand make. We can help you be innovative and stand out.
Drive Your Message Home
Your core message should consist of a single idea which will become the focus of all your creative communications. Your marketing tools should revolve around this central message and theme.
Keep Your Promise
Getting to your brand message was the fun part. Now, put all that work into effect by living up to your brand promises. People will notice.
Uptown Studios specializes in brand development. Take a look at our portfolio of branding work and give us a call to create or update your brand today at 916-446-1082.
Peach Tree Health
A Branding Case Study
Peach Tree Health has Northern California communities for 25 years. It started as a county clinic. Over the years, it became an independent 501(c)(3) corporation and a federally qualified health center (FQHC). Today, Peach Tree serves more than 25,000 patients in Yuba, Sutter, and Sacramento counties.
Uptown Studios was asked to re-envision the Peach Tree brand in 2013 (maybe show before after). At that time we also recommended and implemented the use of a new url PickPeach.org. We have assisted their brand expansion into specialty services such as Dental, Immediate Care and Vision Services.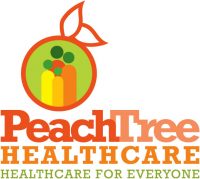 For their most recent clinic opening we have designed and implemented the interior and exterior way finding plan which included banners, monument sign and illuminated building signs. We also created created direct mail advertising to boost clinic walk-ins, and assisted in the coordination of the Grand Opening events.