Website Design that Inspires
Uptown Studios is the leading website design team in Northern California since 1998.  Launching a new website or giving your existing website a makeover is exciting! Our creative web design team works with you every step of the way to ensure your website is user looks beautiful, is user-friendly and easy to use from any desktop or mobile device. Our web design process also focuses on driving traffic to your website and getting visitors to complete your desired action, like filling out a form, signup sheet or making a purchase.
We put you in control of your website. Our expert web design team creates amazing websites using WordPress because it's simple for you to manage and update after launch. We are here to train you and put you in he driver seat, and we are always accessible for support. Plus, we figure since WordPress is used by The New Yorker, Best Buy, E-bay and Google, it's a good bet for our clients.
Website Management
Now that you have a fantastic new website, you want to make sure it stays updated and to show it off. Our management team will make sure your website stays secure, is functioning properly and appears on search engines like Google and Yahoo. We are ready to tackle any site maintenance or content updates you may have. We have experience in resolving a wide variety of computing issues and can even provide hands-on web maintenance training for your team. Our Certified Google Partners also help you navigate through the world of Search Engine Optimization (SEO) and digital marketing tools like Google AdWords and Google Analytics to help your website place high in Google search results.
Monthly Website Management Services Include:
Full website reviews on multiple browsers and devices
Web updates including pages/posts, plugins, content, links, images, navigation, functionality & more
Fixing of broken links, images, buttons and anything else that keeps your website from working properly
Search Engine Optimization (SEO) reviews and maintenance so you show up higher on search engines
Monthly Google Analytics and SEO reporting
Contact us or request a quote now to get started on your new website!
California Craft Brewers Association
A Web Design Case Study Title
The California Craft Brewers Association connects and empowers the craft brewers of California through advocacy, education and communication. Uptown Studios was hired to design and implement their member website as well as the website for their premier event, The California Craft Beer Summit. For both sites we employed a rich, earthy palette and bold, contemporary typography. The website features a members only section as well as a craft brewery map to easily locate your favorite brewers throughout California.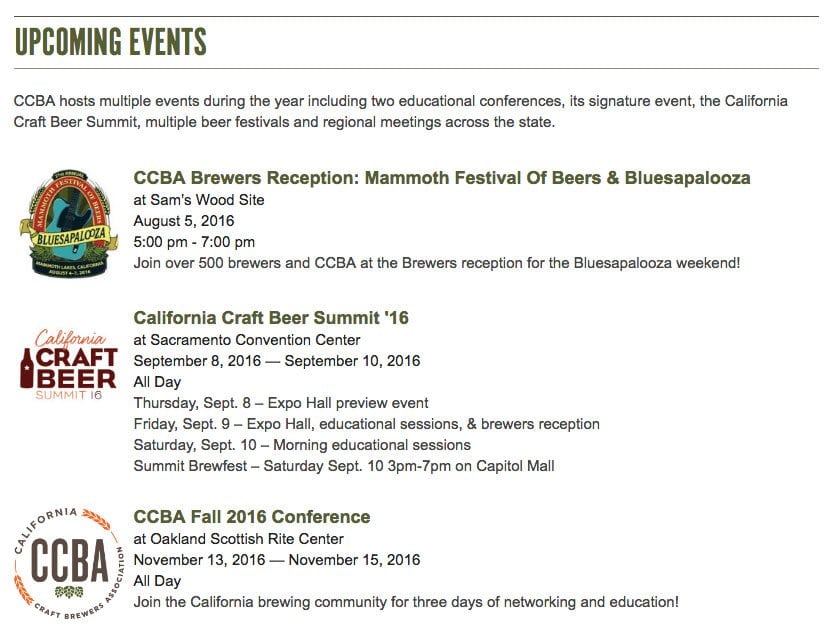 The CCBA website required several custom modules be created to enhance the front end experience while keeping the back end of the website easy to edit and maintain.
They required a robust events management system which allowed for events to be displayed as either a full calendar or in a list style format. We utilized the popular Events Manager Pro plugin, which is great for designing custom layouts through the use of its built in template tags.
For the 2016 Summit Event 'microsite' we build several custom modules for things like the Summit Event Speaker Timeline, the Summit Beer Festival Brewers Showcase, and the 2016 speakers lineup. To create such custom modules we relied heavily on the use of a plugin called Advanced Custom Fields Pro which outputs custom field data from various post types onto custom built template pages.